El mundo del yuri es pequeño y endogámico. Los mismos clichés, el mismo tipo de personaje, las mismas colegialas una y otra vez. A veces la mezcla sale bien y a veces la mezcla sale mal. En ese último caso, está casi asegurado que vendrá un estudio de animación a interesarse por ella. Y, como rebote, se convertirá en una especie de serie fetiche para el fandom.
No es nuestra intención tirar piedras sobre el propio tejado ni mucho menos herir sensibilidades. Sin embargo, que estas cinco series estén en el top de favoritas entre las aficionadas al género es, cuanto menos, inquietante.
STRAWBERRY PANIC · Sakurako Kimino / Madhouse
El pelo de Shizuma nos da pesadillas.
Sólo es perdonable la existencia de un anime tan chorra y estereotipado como este dentro del contexto del boom que fué Maria-sama ga Miteru. Después del aburrimiento mortal que les produjo a muchos la tranquila serie de Oyuki Onno, es sólo natural que saliera esta versión, más picante y frívola. La serie sabe lo que es y a lo que va y no pide excusas por presentarte a personajes planos e imbéciles, situaciones estúpidas y unas tetas que dan escalofríos.
YAMI TO BÔSHI TO HON NO TABIBITO · Root / Studio Deen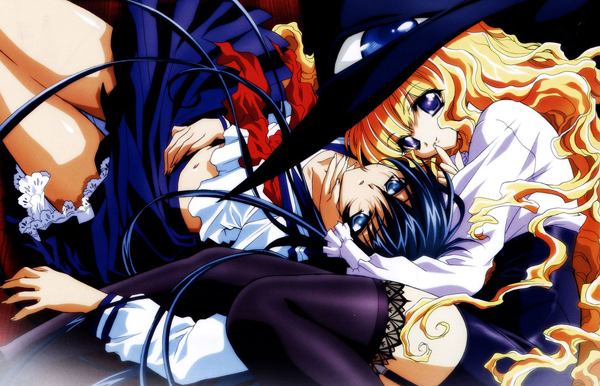 Aparte de un nombre que me costó un mes pronunciar y recordar, Yamibou es otra de esas series que no pide excusas: desde el principio sabes que vas a ver fanservice a mansalva. La premisa: una chica busca a su amada a través de diferentes mundos con la ayuda de una bruja que está interesada en ella. Hubiera sido interesante si el diseño no hubiera sido horrible, la historia aburridísima y la relación semi incestuosa de Hazuki y Azuma una fuerte disuasión para encandilarte con el aspecto romántico.
CANDY BOY · AIC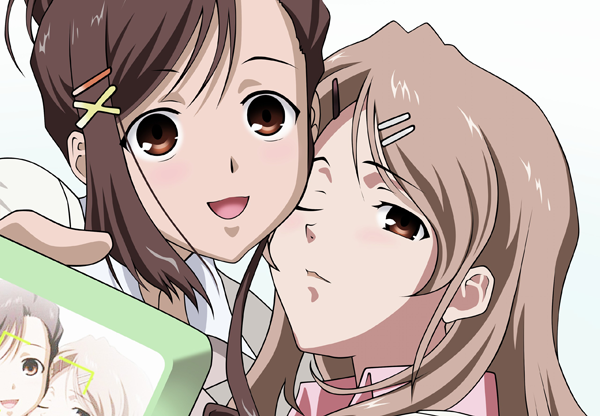 Aunque nada como Candy Boy para salir corriendo a la primera de cambio. Al ver los diseños esperas puppy love y cosas monas, pero te meten la absurda historia incestuosa de dos gemelas a cual más retrasada. Y claro, no sólo te sientes insultada por ser el público objetivo de semejante patraña, es que no puedes contener el horror al verla aparecer en cualquier foro del género por el que pasas.
SHÔJO SECT · Ken Kurogane / Amacord
Al menos el diseño no era horrible…
Un yuri con argumento y donde se daban algo más que la mano, decían. Shôjo Sect iba a ser la serie de animación que rescatara el género del olvido en el que estaba cayendo. Afortunadamente la OVA pasó sin mucha pena ni gloria aunque te la siguen recomendando si pides anime yuri por ahí. Tal vez se le podría dar puntos por las escenas de sexo, pero como todavía estamos intentando descifrar de qué demonios iba el rollo que se llevaban Shinobu y Momoko, nos abstendremos.
KANNAZUKI NO MIKÔ · Kaishaku / TNK
La escena del ending más reversionada del mundo.
La joya de la corona. La serie sobrevalorada y ensalzada hasta la saciedad por cualquier fan del yuri que se precie. El horror lésbico, por definición. Qué bien pintaba en ese primer episodio y cómo nos hizo alzar más y más la ceja hasta caer rendidas del tedio. Si la psicosis, el síndrome de Estocolmo y la "violación por amor" no te echan para atrás, la soporífera historia de mechas será lo que lo haga.
Muchas fans estarían dispuestas a lanzarse a la yugular por semejantes críticas, pero como diría Darth Vader "Examina tus sentimientos, sabes que es verdad."