Locales
La censura del anime de Pokémon
A PESAR DE QUE 4KIDS YA NO MANEJA EL ANIME DE POKÉMON, LA CENSURA SIGUE.
No es la primera vez que les hablamos acerca de la censura en el anime de Pokémon, pero es un buen tema retomar en el #DiadelGamer. Hace un tiempo les hablamos acerca de que uno de los episodios de la temporada actual, basada en Pokémon Sun & Moon, no se transmitirá en América. ¿La razón? Simplemente porque aparece Ash Ketchum con la cara pintada de color negro.
Eso en Estados Unidos ahora es bastante mal visto, porque recuerda a los actores que hacían lo mismo para interpretar personajes afroamericanos o africanos. Pero la censura en Pokémon es mucho más añeja. De hecho, muchos de los cambios que se hicieron tenían que ver con la actitud de 4Kids. Esta compañía fue la responsable de editar varios episodios.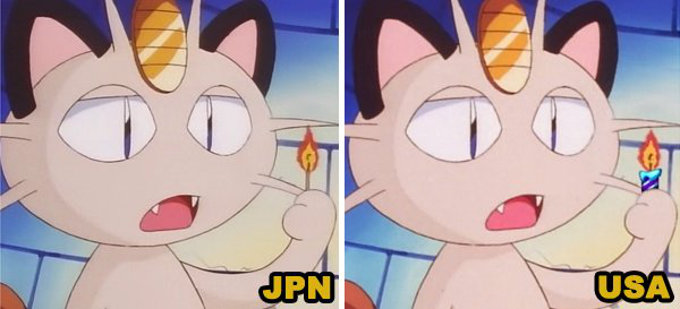 CENSURA JUSTIFICADA E INJUSTIFICADA A PARTES IGUALES
Algunas veces esto estaba justificado. Por ejemplo… ¿por qué OLM le puso pechos falsos a James en el capítulo de Beauty and the Beach? Rememorando un poco en este #DiadelGamer, en otras ocasiones, fue por cosas que sucedían en esos tiempos. Los de Tentacool & Tentacruel y The Tower of Terror tuvieron la mala suerte de coincidir con el trágico 11 de septiembre del 2001.
Eso fue cuando se vinieron abajo las Torres Gemelas. El de Cyber Soldier Porygondel anime de Pokémon nunca se transmitió fuera de Japón por que desencadenaba periodos de epilepsia fotosensible. Y los de Jynk (Holiday Hi-Jynx, The Ice Cave!, Stage Fight y The Mandarin Island Miss Match) para evitar acusaciones de racismo.
POKÉMON Y LOS CAMBIOS REALIZADOS AL ANIME
Pero hay muchas otras situaciones que no tenía caso censurar o cambiar. ¿Por qué cambiar el cerillo que sostiene Meowth por una vela de cumpleaños? Otro caso fue cuando se removió la escena donde Cyndaquil y Meowth beben leche de las ubres de Miltank, en el episodio Got Miltank? No fue al único que le censuraron una bebida. Si hacemos memoria en este #DiadelGamer, lo mismo le pasó al villano Giovanni.
En una escena del episodio Critical Situation! Bakuong vs Juptile del anime de Pokémon, se le ve tomando una copa de vino. Pues 4Kids cambió el licor por jugo… algo poco creíble que tomara, pero en fin. Lo que si es cierto es que desde que esta compañía dejó de distribuir la serie fuera de su país de origen, las cosas han mejorado.
Pero como mencionamos al principio, hay actitudes que persisten. No está de más recordar esto en este #DiadelGamer. Gracias a CB por algunos detalles.